A few unusual pieces…
Storeys of Memory, Wiener Library, Holocaust Memorial Day 2001
Obelisk to Arch, Time Out Book of London Walks – Volume 2
The Writing Life, Sceptre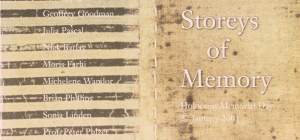 Storeys of Memory – Wiener Library, Holocaust Memorial Day 2001
Adenoid Hynkel of Tomania, Chaplin's famous caricature of Hitler in The Great Dictator, is the sort of Hitler all of us easily recognise: the black hair across the forehead; the moustache; the shouting; the wild gesticulating. There is clearly a lot of Hitler in Hynkel and, once you have seen the film, it is difficult not to see the Hynkel in Hitler. It's as if Chaplin's caricature has since become inseparable from reality; it's the Hitler schoolchildren can draw; it's as if there is no other Hitler.
So it came as something of a surprise to find in the basement of the Wiener Library photographs of Hitler that I had never seen and that showed him in a new light. Heinrich Hoffman, Hitler's photographer, is well known for his depictions of 'the Hitler no one knows'. But these photographs, taken with a special camera and viewed through special lenses, showed a three-dimensional Hitler. Here was a palpably different figure, no longer two-dimensional, iconic, mythologised but a man with stubble, someone caught between foreground and background like the rest of us.
One photograph shows Hitler in a train compartment perusing documents. Caught in three dimensions between his face and the blurred countryside is his reflection in the window. You have the intimate feeling of sitting diagonally across from him, from a man who looks as cosy as an accountant on the 8.15 to Waterloo, from a man whose very banality is evidence of Arendt's definition of evil. And gloating over the rich detail of such an image – the texture of wood panelling, of cloth, of leather, the glassy sheen of the train window, the irregular bristles of a moustache, the contours of a face you thought you knew – is an act of complicity, of participation, of being there. It is the kind of feeling that even the Imperial War museum's exhibition – detailed, moving, aspiring to the monolithic – cannot communicate.
The photograph is reminiscent of other representations, analogous in their capacity to shock, provoke thought, provide new perspectives. One example is a close-up shot of John Wayne, all-American actor-hero, as he stands in US army uniform at the entrance to a liberated concentration camp in a film whose name I cannot remember. On his face is an expression of horror, Kurtzian horror, universal horror, at what he sees. Another example is the unhorrified American couple I once saw in Dachau. They were taking photographs of each other with the words 'a little more to the left honey'.
Although the order was disobeyed, Hitler wanted Hoffman to destroy his negatives. The reason was perhaps the same as that given in the introduction to Hoffman's 'The Hitler No One Knows' by Baldur von Schirach, youth leader of the German Reich. He wrote that 'Hitler is a universal spirit' and that 'the multiplicity of his being cannot be communicated' by a few photographs. The echo of Von Schirach's words seems to come back to us in the arguments of those who believe that the holocaust is beyond representation.
So what are we to make of Hitler on a train, a close-up of an actor or tourists taking snaps in a concentration camp? Or a whitewashed scale model of Auschwitz and the paintings of Felix Nussbaum? Or the intellectual writings of Jean Amery and the fiction of Primo Levi? Or the celebrated fraud Wilkomirski and the forgotten, anonymous, author of Piepels? Or the psychological exploration of the Pawnbroker and the 'Hollycaust' of Schindler's List?
These arbitrary examples reflect at least the spirit of the Wiener Library's evening on which those who attended could, white-gloved, make their own selection, their own connections and, in a sense, their own representation: a photograph of Hitler; the testimony of a Kristallnacht eyewitness; the details of a 1930s trial in Switzerland involving the Protocols of the Elders of Zion.
Camus suggested that 'realism is an indefinite enumeration'. A library is just that, an incomplete account that tends towards the finite but necessarily falls short, is never more than representation, each fragment, each document, each picture evoking and implying the whole. Put another way, in every representation there is an implicit absence. Hitler may have wanted Hoffman to destroy what he considered to be an undignified photograph of his ally, Stalin, smoking but that desire goes with totalitarian territory: there is only one rule book; one dogma; one Benefactor in Zamyatin's OneState; and only one appropriate facial expression in Orwell's Oceania because all other expressions are 'facecrimes'.
A singular, exclusive view is didactic to the same extent that indefinite enumeration is educational. The Nazi view of Jews as Untermenschen is as difficult to accept as a Jewish view of Nazis as monsters. The act of degrading or demonising admits no alternative, no doubt, no possibility of engagement with the other. But there are plenty of grey areas, uncertainties, photographs at the Wiener Library that need captions just as those of the American tourists at Dachau need captions. One, for instance, shows people, perhaps Hungarian Jews, being shot, perhaps by a Hungarian 'Nyilas', into a river, perhaps the Danube. Similarly indistinct is the brief unsupported reference in the Imperial War museum's exhibition to the psychiatric problems experienced by Einsatzgruppen soldiers.
Contemplating the holocaust leads not to a single, indivisible truth but a multiplicity of representations, some requiring explanations and captions to understand them, and others requiring special lenses. But between historical accuracy and ideological motivation many facts, events, people and their stories, slip away barely noticed like the blurred figures, perhaps Hungarians, into a river, perhaps the Danube. Or like my grandmother who, in Budapest in 1944, bending down to tie a shoelace, slipped away, unnoticed, from a column bound for Auschwitz. And these few key seconds of her story have been handed down as symbol, memento and representation of her struggle.
The Wiener Library is not only a place to go to research epic Hitler biographies or to quantify and to generalise. In such places, more or less any detail allows you to cross the temporal and cultural borders that fix the holocaust, that resist reinterpretation, and that allow Adenoid Hynkel to exist demonised and unquestioned.
Obelisk to Arch  – Time Out Book of London Walks – Volume 2
"This book will take you places you've never been." (The Sunday Times)

An extract from a walk I did along London's longest and straightest road…
Wildlife, factories, picture palaces and motorway junctions all feature on this walk into the heart of London along the ancient Watling Street.
Ancient tribes, modern vigilantes, a hermit, a murderer, a Vorticist, a poet, a pop star, a suicidal painter, hidden streams, missing crosses, lost stones, an Oriental city, a picture palace, a trumpet factory, an aero works, bombs, fires, robberies, ruddy ducks, cormorants, reed warblers, a harmonious blacksmith, a mattress king, five boroughs, one gallows, relentless traffic, around 12 miles of pavement and Joan Collins: welcome to the A5, one of Britain's greatest arterial Roman roads originally running from Richborough in Kent via St Albans to Chester, and these days on to Holyhead. The stretch described here runs south from Brockley Hill to the heart of town, and is itself the straightest, longest and one of the oldest of London's roads. Behind the perfection of the alpha-numeric A5 lurk no fewer than 15 names, some out of date, some disputed, some cunningly repeated along its length. Brockley Hill becomes Stonegrove, then High Street Edgware, Burnt Oak Broadway, Edgware Road, The Hyde, West Hendon Broadway, Edgware Road, Cricklewood Broadway, Shoot Up Hill, Kilburn High Road, Maida Vale, then Edgware Road once more. The A5 was also known as the London Way up to the end of the 16th century, occasionally as the Roman Way and, much more often than not, as Watling Street. But names aside, put simply and symbolically, you will be walking from an obelisk to an arch on a 2,000-year-old route…
The Writing Life, for Sceptre, publishers of two of my novels…