Nick Barlay is the author of four acclaimed novels and one book of non-fiction. He has written award-winning radio plays, contributed to short story anthologies, and his journalism has appeared in many publications. He was named as one of Granta's 20 best young British novelists in 2003, until it was discovered he was too old to be young.
Barlay was born in London to Hungarian Jewish refugee parents.
Scattered Ghosts, the story of his family over 200 years, is available in the UK, Hungary and the USA. It was longlisted for the 2015 Wingate Prize.
He is currently writing a non-fiction book, The Suicide of Eva Izsak, supported by an Arts Council England award.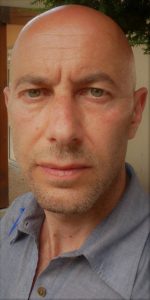 "funny, melancholy, thought-provoking, vital" – Hilary Mantel
"brutal poetry" – Time Out
"brilliantly literary" – The Guardian
"insanely inventive" – The Sunday Times 
"superbly bitter-sweet" – Telegraph
"beautifully complex" – Jewish Quarterly