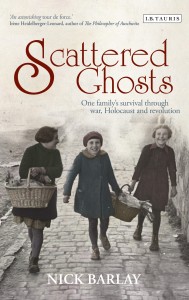 'It's a recurrent dream, them turning up. One dark and stormy night, goes this dream, when I am snug under duvet, protected from wind and from rain, there is a knock at the door. I ignore this knock, attributing it to the dream, to a dream within a dream, or an imagined knock, or a melodrama brought on by years of conditioning, a cultural assault of dark and stormy nights and knocks on doors…'
So begins Scattered Ghosts, the 200-year story of my Hungarian Jewish family through war, Holocaust and revolution to contemporary Britain. I received an Arts Council award for the book and travelled extensively to research it, including to Romania, Slovenia, Slovakia and Austria, as well as all over Hungary, a country I have visited periodically all my life and where I still have family.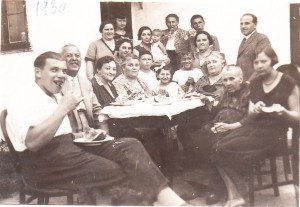 Here's an excerpt from the chapter about the events of 1956:
A Revolution in a Family
'What's all that noise?' Bandi asked.
'Shooting,' my father replied.
'Why is there shooting?' Bandi asked.
'There's a revolution,' my father replied.
It was the evening of Tuesday, 23 October, the evening the shooting started. My father, who had been freelancing for Hungarian Radio since 1948, was trapped like the rest of the journalists in the Radio building. Since the Communist takeover, the Radio had been an organ of the state run by Stalinist executives. Outside there were protestors demanding that their grievances be broadcast. Guarding the building were agents of the hated AVH, Hungarian secret service. Nobody knows who exactly fired the first shot. With the political and social situation changing hourly, the phones at the Radio had been ringing all day. My father just happened to answer a call. The caller just happened to be Endre Gömöri, a friend, senior colleague and his wife's cousin.
As a child, Bandi, the diminutive of Endre, had been the one who had sneakily rewrapped the silver-papered chocolates belonging to his grandfather, Bernát, having eaten the contents. During the war, he'd survived on his wits, often with a false name and false papers, and once or twice disguised in an Arrow Cross uniform. In October 1956, Bandi, some eight years older than my father, was an established foreign political correspondent. He was calling from Poland, where he'd been sent to cover the rebellion that had begun in the summer and which had ended with a new government rather than being crushed by the Soviet military.
As they spoke, neither knew that one would end up staying in Hungary, and one would escape.
Who started the shooting at the Radio building on Bródy Sándor Street is disputed to this day. What is beyond dispute is that, as a result of the next few days and weeks, there were those who stayed, and there were those who went. Half a century on there is still a pair of verbs that defines the nation: 'menni', to go, versus 'maradni', to stay. The verbs define the nation, and its families, including mine. Since I can remember, the other side of the family was always the one that chose the other verb.
In Hungary, in the autumn of 1956, everyone was given the same choice. The revolution, in that sense, was egalitarian. Each choice was accompanied by a story, and stories of the revolution were sprayed like bullet holes across the country. There were a lot of bullet holes. Some, especially in the capital, are still there. You can see them on random buildings, around window frames, above doors, on fifth-floor balconies, at street level, at head level, from any angle, as if the whole city was pock-marked or porous, as if the whole city was a giant sponge.
Sure, Budapest, where my family was, looks better than it did. Redevelopment, renovation and renewal made a difference, especially after the new millennium. It made a cosmetic difference to some of the buildings but not to the people who lived in them. The revolution gave everyone a choice and it forced everyone to choose. This means that there was a revolution in everyone, ten million of them.
Some people, caught up in grand events, cannot help claiming, especially after it's all over, that they were somewhere special or that they did something special. They talk themselves or write themselves into history. One of my distant relatives, Ádám Bíró, writer, editor, collector and teller of jokes, whiskery and twinkling, whom I met once in his poetically weedy and broken down holiday home in the village of Leányfalu on the Danube, and who escaped from Hungary as a boy in 1956, told me that many of the people he knows of that generation claim to have been somewhere special at a special moment: 'They all say they were there. It seems everyone was a revolutionary and that the whole of Budapest was right there in the square when Stalin's statue was torn down. And you took photographs? I ask them. "Of course," they reply. And you still have them? I ask. "Now? Oh, no. It was so long ago," they reply. "They're gone… Lost…".'
The revolution in my family, and therefore in so many others, involved more words than bullets. Between them they did not throw a petrol bomb or shoot a Soviet soldier. None has ever claimed to have been in the square when Stalin's statue was torn down. There are no 'lost' photographs from the events of October and November because none was taken.
But it just so happens that there is a bullet hole in a 'lost' painting. And it just so happens that there was a tank shell on a 'lost' date. And it just so happens that my father was in one of the most famous locations of the revolution on its opening day…'
Scattered Ghosts, I. B. Tauris, October 2013
* 'Nick Barlay's beautifully complex family memoir.' Jewish Quarterly
* 'Nick Barlay's richly-layered family history digs beyond the Shoah into Austro-Hungarian history.' Jewish Chronicle
* 'Barlay has researched in admirable detail not only his own family's roots but also the general history of the eras he investigates. The end result is a remarkable family memoir, with the modern history of Hungary cleverly woven into the narratives of individuals.' Agi Erdos, Jewish Renaissance magazine
* 'Far more than just another family history… The author has brought his skills as a novelist to writing this family history, meticulously recreating the background scenes and bringing to life his ancestors. This vivid style involves us in one family's story and at the same time gives us an understanding of the wider history of Central Europe.' George Vulkan, AJR Journal
* 'This book binds together the lost members of this family and is a fitting memorial to their struggles.'  Good Book Guide
* Evocative, mesmerising… extraordinary'. Wessex Jewish News
AJR Journal (Association of Jewish Refugees) – March 2014
The Lady magazine – January 2014
Interview on Resonance Radio, 'Interesting Conversations' with Wendy Jones:
00-Interesting Conversations-256kbps